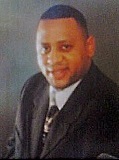 Rev. David B. Jones was born in Oakland, CA, the younger of two sons, to Rev. Willie Jones and Ora Jones. At an early age, he began his Christian education at the Antioch Missionary Baptist Church of Oakland. It was there, where he grew, under the Pastorate of Dr. R.T. George. At the age of six years, he accepted Jesus and was baptized. Throughout his childhood and teenage years, he served in various capacities while a member of the Antioch Baptist church.
After 24 years of membership, he united with the Greater St. Paul Baptist Church of Richmond, CA under the leadership of his biological father, Rev. Willie Jones. Rev. Jones continued to faithfully serve in various capacities at the Greater St. Paul Baptist church including serving on the Usher Board, teaching Sunday school, Treasurer of the Brotherhood Department, and eventually, appointed as Deacon. It was through these active roles, that he acknowledged and accepted his call to proclaim the Gospel. After serving as an associate minister, youth Pastor, and teacher of adult men's bible class, he served as an Assistant Pastor for two years due to the illness of his father, the Rev. Willie Jones.
After 10 years of service to Greater St. Paul Baptist church, Rev. Jones, through much prayer, was led to organize the Harmony Missionary Baptist Church of Richmond, CA in June 2002. Pastor Jones has faithfully served Harmony with humility and sincerity. Under Pastor Jones' leadership, we have fed the hungry, opened up Harmony's clothes closet to provide to those that are in need and are excitedly making plans, to open the "Harmony House of Hope" recovery home.Pastor Jones as a life long resident of Richmond takes great pride in being able to serve God and the community which he was raised and continues to live in.
Harmony has experienced a tremendous growth both spiritually and numerically. Pastor Jones is a dynamic speaker, gifted teacher committed to serving God with the bible as his guide and the Holy Spirit as his inspiration while operating under the commandments that Jesus set forth in scripture
" to love the Lord with all thy heart and all thy soul and all thy mind " and " to love thy neighbor as thineself " with the ultimate goal of building a church where all would feel welcome and that God would Honor.